Buying a Home
'Your home should fit you like a glove'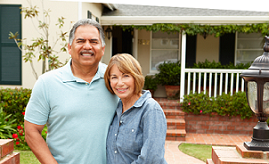 Whether it's your first home or if you're an experienced buyer, purchasing a home is a complex process.  I am a firm believer that a home should work with your lifestyle.  A  young couple will have different priorities when it comes to their first home, compared to a couple that are looking for a retirement property.  By working with me, you'll find a home in the neighborhood where you want to live, one that fits your budget and meets your goals for features, quality and value.
For the last few years we have had a sellers market, but that doesn't mean that a buyer should just take what they can get.  I will fight for you for a fair deal and your best interest will always be my first priority.  That is why in this competitive market, you have to make sure that you work with your own agent, your BUYERS AGENT that will work FOR YOU.
If it does happen that you want to make an offer on one of my listings, please ask me about the extra steps that I take to make sure that your interest is protected and looked after.  DUAL AGENCY is a lot more complicated than most people realize, and that is why I have unique measures to make sure that I deal honestly and fairly with all parties involved and according to the Realtors Code of Ethics.
Once you've found the home that's right for you, I will guide you through the process of making an offer;
negotiating the terms of the sale, getting your potential purchase inspected, repaired and appraised and closing the sale.
When you work with me, you will:
Be more likely to find the home that meets all your criteria

Lessen the amount of time it will take to find your home

Understand all the terms, processes and documents used when buying your home

Have up-to-date market information that will allow you to make informed decisions

Have a skilled negotiator working on your behalf, one who is committed to looking after your best interests

Enjoy peace of mind, knowing that all the details of your purchase are being taken care of by an experienced and knowledgeable professional
To help in the process of keeping an eye on the market, phone me so that I can get you set up to receive listings of houses for sale in Fredericton, or any other area in New Brunswick.